About the Shipwrecks UK resource
Shipwrecks UK Ltd offers the most comprehensive source of information about shipwrecks in the sea areas surrounding Great Britain and Ireland. With the ability to draw on and interactively analyse the data, the Shipwrecks UK resource is able to provide context and connections : it has become a microcosm of the UK's, Ireland's and the wider international community's maritime heritage.
The entire contents of the 6 Lloyd's Register Shipwreck Index (and Shipwreck Index of Ireland) volumes have been updated, expanded and transformed into a computerised system that goes far beyond the original resource. The number of shipwreck events covered has been substantially increased, including many more details of the vessels and many corrections. A unique interactive mapping system has been specially developed, with the data driving the mapped results and 'drill-down' capability. The resource offers a unique insight into our maritime history.
The resource has also enabled substantial cross-checking of the original content which has consequently been much improved and given greater accuracy through many years of work since the original Index volumes' publication. This has included considerable additional research using original sources (especially ship registers from archives in many parts of Britain with the much-appreciated assistance of their archivists). Although the original Index volumes were a fine achievement, they were compiled without the benefits that the resource allows. There have since been a great many additions, but also deletions of quite a large number of duplicated events.
Shipwrecks UK provides both the big and detailed picture for shipwrecks in the seas around Great Britain and Ireland, dynamically mapping users' search criteria. These can include: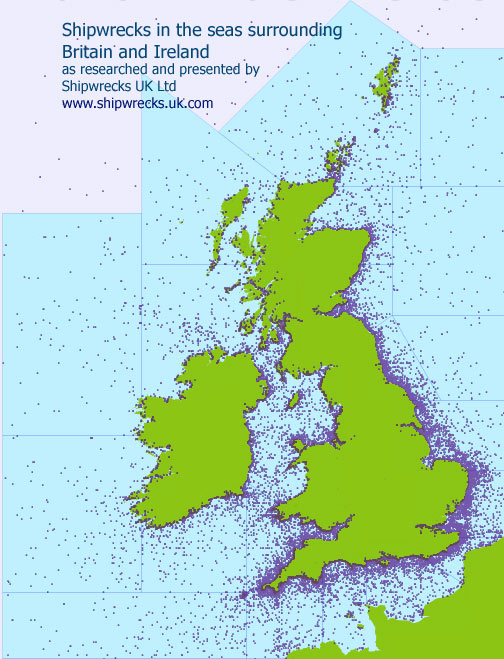 - type of cargo
- cause of loss
- lives lost
- ship name
- ship type
- date ranges
- port links
- shipbuilders
- shipowners
- location of shipwreck
- flag of registry
… and much more
Other maps, also drawing on latest data, show aspects such as lives lost in armed ships during the two World Wars, and protected wrecks. Colour-coded density mapping highlights wreck concentrations for the chosen criteria while enabling access to every ship's details. Where the position of a wreck has not been discovered, the area of likelihood is graphically displayed.
---
Connections between shipwrecks (to highlight ship losses that were the result of the same detailed cause such as mines laid by on a particular occasion by ship or submarine, or other linkages) can be quickly established when viewing wreck details, and the entire set -- whether small or large -- can be instantly mapped. Click here to see an example of such a connection.
---
The system has been designed to be both highly informative and user-friendly. It provides thematic analysis, with the ability to 'drill down' to see the detail behind the broader picture. Zooming-in to greater detail is facilitated by mouseover information displays and then by clicking, on any of the following:
colour-coded cells, 10 by 20 nautical miles, displaying results of the search criteria
named location 'layers' for wrecks where locations are are known only generally (eg '2 miles south of Beachy Head')
sea areas
ports, shown across Great Britain and Ireland, and places selected via the drop-down list of more than 4000 geographical locations
selected islands and rock reefs
individual vessels wreck sites
From the zoomed-in view, the details of each of the wrecks can be accessed, many with accompanying photographs and expanded information.